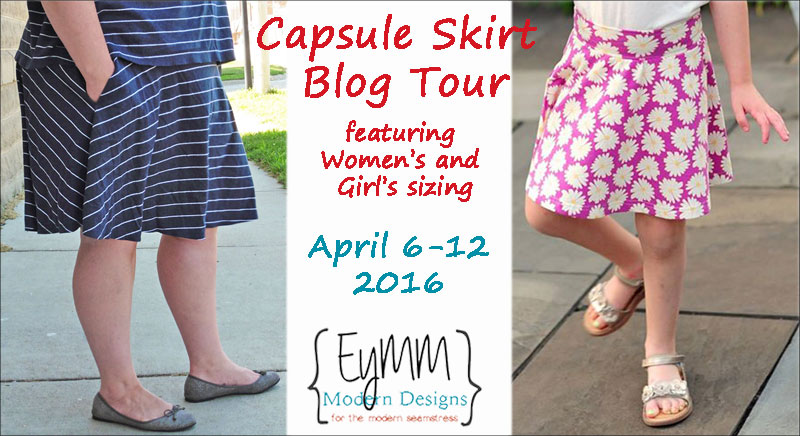 Hey! I'm on the Capsule Skirt blog tour today for
Everything Your Mama Made (and More!)
sharing a rare sighting - me, sewing for ME! I stepped out of my clothing comfort zone, and I couldn't be happier with the result! Plus, the color is perfect for the spring that seems to finally have arrived!
The Capsule Skirt is a fast (even printing/taping a pattern that goes up 5x - the pages are no trim and go together very quickly!) easy pattern to sew up, and takes a refreshingly small amount of fabric, even for my 2x. I found a 2-ish yard remnant of some hot pink polyester at the thrift store - polyester isn't normally my fabric of choice, but this has wonderful drape! - and I believe I have enough left over for a matching skirt for my oldest daughter, if she decides she wants it.
I rarely wear skirts, partly because in the Wyoming wind they're a hazard ;) but really I'm just a jeans-and-tee shirt girl. But this skirt is just as easy and comfy to style as a pair of jeans - it can be dressed up, sure, but I could throw this on with a tee (and probably a pair of shorts under, heehee) and be perfectly happy all summer!
I cut the 2x waistband (though my measurements put me closer to a 4x for the waist) out of black cotton lycra, in the yoga width. Here's a terrible "selfie" I managed, but it shows that pulled up, it makes a wonderful "control top" for early-mid pregnancy. There are also maternity cut line options for wearing under a baby belly included on the pattern, which I'll definitely be utilizing later on this summer!!
I'm not normally one to sew for myself (or model for a camera), but this skirt is so effortless that I didn't mind at all. I put the whole thing together with my serger, and from start to finish, pattern included, it took me less than half an hour! You can't beat that, and it's encouraged me to put aside that teeny bit of time to make something for ME! I especially love how this skirt can be made in almost any fabric, so it's easy to make for special occasions or for running around with the kids. Versatility is very important in a mom's wardrobe, and the Capsule Skirt has all kinds of it.
The length is perfect - when the wind isn't blowing it up, it hits just around the knee, which is the ideal comfort length for me. There's just enough flowiness to the lines of the pattern while still maintaining a feeling of coverage - plus there is an option to cut a longer back piece! Kymy really thinks about all the possibilities for comfort with her patterns, and for someone like me who doesn't step outside a certain "clothing comfort level" often, that's so important.
Let's sum up - three cut line options (regular, long, maternity). Pockets? If you wish! Two waistband options. Fit and comfort and style - all perfected. Fabrics? Almost anything you can think of! Occasions? Anywhere, anytime.
Make sure to check out all the other stops on the EYMM Capsule Skirt Tour. (Note: The links won't be live until the day they're scheduled, but feel free to click through and check out other blog posts any time.)
Wednesday, April 6
Thursday, April 7
Friday, April 8
Saturday, April 9
Sunday, April 10
Monday, April 11