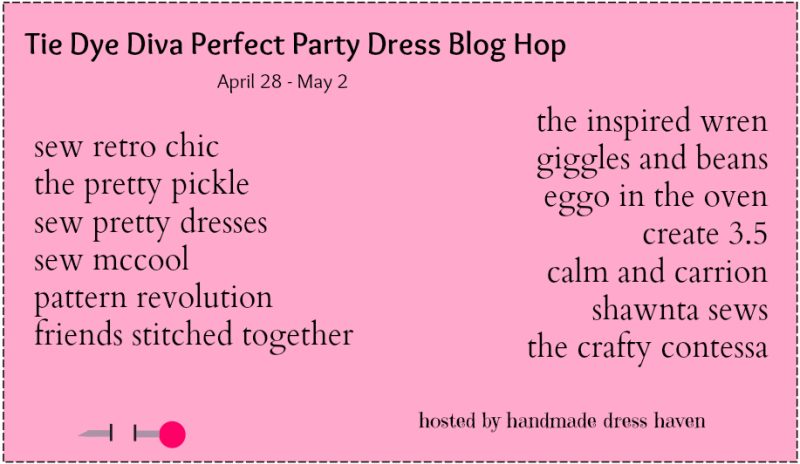 I was so happy to be included in this blog tour! This is my first tour ever, so I'm glad you're all here stopping by to see what I've done with the
Perfect Party Dress from Tie Dye Diva!
(affiliate link)
I was told to make the dress my own - change something up. Whether pintucks, pleats, or pockets, add (or subtract) whatever necessary to make this dress one of a kind!
I'm one to follow a pattern more or less to the letter, at least until I'm comfortable with it. But after looking over the pattern, I realized something. This is a perfect (yes, it's aptly named) pattern to change up, mix up, make it your own. At its heart, it's a sweet, girly-twirly little dress with puffy sleeves, sure to make any little princess gasp with delight. But it can be so much more, as you've seen through this tour!
Sleeves or no sleeves?

No sleeves. I tried finishing the armholes with bias tape, but it looked too stiff and weird when I was done, so I ripped it out. I finally just clipped the curves and turned both the front and lining toward each other, and topstitched the armholes closed. A little fiddly and a little time consuming, but I think it looks much better than the tape did!
Sash or no sash? Love the option for contrast fabric, why not?


How about adding an apron? I didn't really take pictures for a tutorial, but it was very simple. All I did was cut a rectangle 2-3 inches shorter than the width of the front bodice, then the length two thirds of that. (So if your width was 9 inches, your length should be 6.) I serged around the rectangle to prevent fraying, attached trim to three sides, then laid it right sides together with the bodice. I had already pinned the sash in place, so the apron would lay right under the sash piece. Then I sewed the whole thing together, and followed the instructions from the pattern for the rest of the dress!
Embellishments? Red lace isn't the first thing I think of for children's wear, but added to an apron and shaped into a sweet little rose? Perfect! I rolled and wrapped the lace around itself, then hand stitched it to the bodice outer before lining it. It took some trial and error to get something resembling a rose, but I'm happy with the final result!
Buttons? Snaps? (Do I dare to try for a zipper instead?) I went with snaps, because A) they're fun, B) they're so, so easy and C) they're great for quick changes on little bodies! Faster and less fiddly than buttons, and no worries about them popping off.


And voila! From fancy party to relaxing picnic, in just a few easy steps! See how much fun a new dress is on a sunny day in the grass? Life IS a bowl of cherries!
I love the lined bodice. It looks so neat and professional, and it's so easy to do! The steps are laid out just so, and the pattern goes together so neatly, that a beginning sewist would have no problem at all. It's the ideal way to pop in that simple but beautiful coordinate - now you see it, now you don't.
This pattern offers so much for customization. The plain front bodice is great for embellishing with embroidery or applique, and the big gathered skirt begs for a sash, an apron, or pockets. Instead of gathers, try making pleats! Use shaped buttons, or covered buttons to match (or add a fun contrast) to your dress fabric!


This dress comes in two size bundles: 0-24 months or 2-10 years. I made the 12-18 month size for my 12 month old, and it fits like a dream! Hop over to
Tie Dye Diva
(affiliate link) and pick yours up today. This week you can get either pattern, babies or girls sizes, for $6, rather than their regular price of $7.95, by purchasing through one of the blog hoppers! Click one of the affiliate links in my post, or the button on my sidebar. Also, make sure you visit
Handmade Dress Haven,
who is hosting this amazing blog hop!
She wants you to go make a pretty dress for your little girl, right now!
If you missed a stop, here's the blog tour schedule from the past week:
April 28:
Kathy
,
Amy
,
Michelle
April 29:
Tasha
,
Ren
,
Alyssa
April 30:
Sara Beth
,
Shelly
,
Shawnta
May 1:
Jenny
,
Victoria, Nichole
,
Meriel
(me!)
May 2:
Deanna
,
Zura
,
Kim
*I was given this dress pattern for the blog tour. All thoughts and opinions are my own.
**This post contains affiliate links. If you purchase an item following one of these links, which are noted, I receive a small portion of the sale.